Dafni got in the School of Pharmacy in Athens (National and Kapodistrian University of Athens) in 2003, while receiving a scholarship for 3rd place of national acceptance, by the State scholarship foundation (IKY).
She graduated "with Merit" in 2008, and she worked as an apprentice at the Skyllitseio Hospital of Chios, Greece and at the pharmacy of her father, George Maris, with whom she collaborates until now. She is a board member of the pharmacy of Eugenia Boubari in which she works in short term periods as the pharmacist in charge. She is also a founding member of the company Maris Natural Remedies, along with her father, who is a pioneer in the field of handmade natural cosmetics and therapeutic products, since 1978, with great local, national, and international recognition, due to the efficacy of the products and their pure, herbal ingredients.
'Maris Natural Remedies'  aim is health care and protection of hair, face, body, skin care, and toning and supplementary treatments, using herbs, botanical extracts and natural ingredients to improve psychosomatic health and beauty. You can visit our website for more details and our products by clicking here.
Recently our company designed the series "Dancers' Edition", led by Dafni Mari.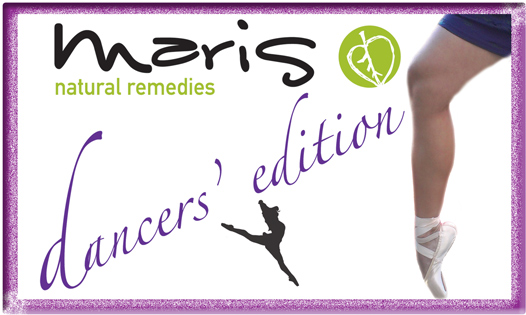 Understanding the specific needs of dancers, our series includes products for the improvement of dancers' physical and psychological health. 
Energy- Slimming
Dancers need to be fit, maintain a healthy, nicely shaped and strong body full of energy, while having a relatively low body fat. Thus, many dancers are trying to lose weight, getting rid of the unnecessary amount of body fat, but need to keep their energy levels high. Our series that helps with a natural and healthy way includes :
Dancer's Energy Elixir (& capsules)
Energy Elixir that provides the dancer with the ability to adapt to the requirements of dancing. Containing a very efficient mix of natural herbal ingredients, it enhances mental and physical performance, while increasing the body's resistance to stress and fatigue. This way, the dancer can have more energy to jump better, hold their legs in the air longer, feel less fatigued, while maintaining their mental focus throughout their rehearsals, thus remembering the combinations and choreography easier.
It is ideal for periods of long day rehearsals, classes and performances.
Dancer's Spirulina detox
Spirulina is a natural product rich in protein, vitamins and nutrients, required for health, especially during strenuous exercise and dieting. This product helps dancers loose body fat, but also to shape muscles, while it also enhances mental and physical well-being, promoting body detox.
Dancer's Antioxidant (Hippophae)
Dance is a strenuous exercise, imposing a lot of stress on the body. This natural food supplement from hippophae's fruit, is rich in vitamins, minerals, antioxidants, omega-3 and omega-7 fatty acids, for strong antioxidant, inflammatory, analgesic and healing effect. It is ideal for energy, well-being and health care.
Dancer's Green Tea Tincture
Green tea tincture, rich in polyphenols, can contribute to the activation of the metabolism, the increase of energy expenditure, and body fat loss, while protecting from free radicals, offering antioxidant, anticancer and anti-age properties. Thus, it helps detoxification and slimming, as part of a healthy diet.
Dancer's Herbal slimming-aid (tincture /capsules)
This unique herbal blend can contribute to the activation of the metabolism, while providing calmness and body-mind balance. It also underpins detoxification and slimming, as part of a healthy diet. The help a dancer needs, when trying to lose weight, aiming for health and wellness.
Stress/ Anxiety
Dancer's Stress solution (elixir/capsules)
Everyday stress or stage fright during shows, auditions or competitions can lead to impaired performance. This product is a natural way to deal with that, acting against stress and anxiety, while improving dancers' mood, balancing their psychological state. This way they can always give their best in class and performances.
Injuries
Dance Injuries are very frequent, leading to painful joints, muscles and tendons and thus impaired performance.
Dancer's Pain-Free elixir (& capsules)
This Pain-free Elixir is a natural anti-inflammatory supplement that relieves from muscle soreness, back, knee, and foot pain, inflammations and other painful conditions caused by acute or chronic injuries. This way, the dancer can dance with less pain, and help their injuries. It can be used either on its own or as a complementary treatment. 
Dancer's Pain Gel
This Pain Gel possesses anti-inflammatory and analgesic properties, relieving from sore, stiff, strained and painful muscles, back, knee, and foot pain, arthritis and other painful conditions caused by acute or chronic injuries. Its natural essential oils of Eucalyptus, Mint, Capsicum, Turpentine and Lavender, provide a natural warming sensation, making it ideal for use before training. 
Dancer's Arnica Montana cream
Acute dance injuries like strains or sprains, as well as bruises, phlebitis, muscular pains, and swollen feet are very common in dancers. This specially designed cream with botanical extracts helps reduce inflammation and swelling, balances blood circulation and offers a relaxing and cooling sensation. It is ideal after long day rehearsals and classes, but also for overuse or acute injuries to eliminate pain.
Dancer's wound and bruise ointment
Dancers that have a lot of floor contact, such as kneeling etc. could usually have bruises along with ripped skin. This specially designed ointment, with a mix of herbal extracts, possesses anti-inflammatory and antimicrobial properties, acting against bruises, sprains, strains, and edemas, while protecting from infections and promoting skin healing. 
Dancer's Foot Care
Dancers' feet can easily get irritations, due to sweat and friction inside their dance shoes or barefoot dancing, leading to fungal infections, inflammations, wounds, rashes, eczemas, bad odor etc.
Our natural remedies series can prevent and treat dancers' feet problems, using the power of essential oils and other natural ingredients. Our Dancer's Foot products include:
Antipurigo Powder with Zinc Oxide, Chamomile Extract and Boric Acid alleviates from skin inflammations, rashes, eczema, intertigos and other skin conditions, while possessing antibacterial properties. 
Wound Healer Ointment. Friction between the skin and the floor or pointe shoes can usually lead to open wounds that are often painful, prone to infections, and make dancing hard. The wound healer possesses antibiotic properties, protecting from bacterial infections, while the natural astringent it contains promotes fast healing. 
Essential Oil Foot Powder with Tea Tree, Clove and Oregano acting against the bacteria that cause bad foot odor, while also preventing other skin infections due to its antimicrobial properties and prevents foot sweating.
Antifungal Cream soap with Calendula, Chamomile and essential oils for strong antibacterial and antifungal action, cleaning the skin in depth. 
Antifungal solution/ tincture for fungal and bacterial infections and irritated skin, often caused by ballet and dance shoes.
Antifungal Nail essential oil drops for the treatment of toenail fungal infections, frequently caused by ballet and dance shoes.