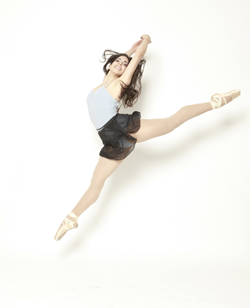 Dafni Mari was born and raised in Chios island, in the Northeastern Aegean Sea, in Greece. There she began her first dance steps at the dance school of Lia Dimitropoulou and she gained the I, II, III, and IV Vaganova degrees. When finishing high school she got a scholarship for 3rd place of acceptance in the National and Kapodistrian University of Athens, school of Pharmacy, while at the same time she got in the professional dance school of Despina Gregoriadou.
After graduating from both schools, she got accepted at Trinity Laban Conservatoire of Music and Dance- City University in London, where she gained the Msc of Dance Science. In London, she participated in many dance and artistic projects, while also being associate member of Ballet Black Neoclassical Company, in the Royal Opera House.
Continuing her career, she went to New York and danced with the Ajkun Ballet Theatre, and still collaborates with the company, while also being their official Audition Associate/Co-ordinator in Greece and the Balkans. Recently she started collaborating with another New York based company "Danse en l'air".
In the meantime, she is also working as a pharmacist and is a co-founder of Maris Natural Remedies company, which specializes in natural cosmetics, and herbal supplements and treatments. Recently, she designed a dance specific product series "Maris dancer's edition", aiming at enhancing dancers' health and performance.
She is also working as a dance scientist, helping dancers reach maximum performance, by profiling, applying tests and designing specific interventions, while improving their well-being and general health. Finally she teaches ballet , contemporary dance, and dance strengthening/conditioning in several dance schools around the world.