CHIOS: At the age of five, she took her first dance steps at the dance school of Lia Dimitriopoulou in Chios, Greece. She participated in all the ballet, jazz, and contemporary dance projects and performances for 14 years, with the most important being "Sleeping Beauty" and "Giselle", in which she danced the leading role. In 1999 she collaborated with Municipal Theatre of Northern Aegean (DIPTHE) participating in the performance "Ornithes" (The Birds) the ancient Greek play of Aristophanes, directed by G. Biniaris and the multiawarded D. Avdeliodi, which went on tour all over Chios and other islands like Lesvos and Oinousses. In 2000 she got a distinction in the national dance competition and also participated in the theatrical play "Odyssey". In 2003 she took part in a theatrical Tribute to F. G. Lorca "
"Weeping for the Death of Ignacio Sánchez Mejías" and left from Chios , having already obtained the IV Vaganova degree.
ATHENS: Until 2006, when she got her dance teaching degree, she danced in the performances of Gregoriadou professional dance school at Acropol Theatre (National Opera of Greece), in choreographies of K. Bogoeva, P. Stamatopoulou, and M. Gregoriou, presenting "Etudes", "Duet", "No Name" and "Beach Birds" of Merce Cunningham respectively. In 2009, she performed in the show "Broadway in Athens" at Badminton Theatre in Greece, directed by multi-awarded, Broadway choreographer Chet Walker.
VARNA: In 2000, she participated in VAGANOVA dance seminar of Varna's Dance Academy, dancing in the choreography of the worldwide famous K. Bogoeva, at the opera of Varna. In 2006 she obtained the certificate of the VAGANOVA Russian ballet technique teaching, while participating in practical and theoretical seminars of Sofia's Academy of Music and Dance " Pantso Vladigerof".
LONDON: In 2009, she got accepted in Trinity Laban Conservatoire of Music and Dance- City University , where she obtained her Msc in Dance Science. There she got trained to approach dance in a scientific way, analyzing movement, and suggesting solution to problems, and ways to enhance dance training and performance and improve dancers' health. In London she also participated in many artistic projects, such as collaborative arts 3-day-event "Bizarre and Beautiful" as a soloist, presenting her own choreography "Protege" in music of Snoozloop and interactive improvisation with musicians at the SHUNT. She also performed with A. Russell in several improvisation and structured improvisation project, in collaboration with the musician W. Binitie, as part of modern art PROPS exchibition (celebrating theatricality in contemporary art) supported by the Czech Centre at Guest Projects Studio,and M. Delacruz's "Refractions of Isthmia II" at Slade School of Fine Arts Research Centre. She was also an associate member of the Ballet Black Company, in the Royal Opera House, while also getting trained in ballet at Pineapple studios, by Ronald Price and Ian Knowles for 2 years and in contemporary dance at Trinity Laban and Greenwich Dance Agency.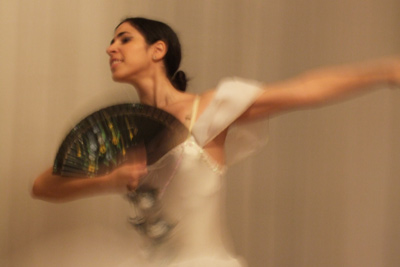 NEW YORK: In 2011 and 2012 she danced with the professional ballet company Ajkun Ballet Theatre in famous ballets like "La Bayadere", "The Nutcracker" , "Don Quixote" and international premieres of Leonard and Chiara Ajkun such as " Red- The Passion of Tango". In the company she danced in the corps de ballet and as a soloist, and she is still collaborating with them, while also being the company's official Audition Associate/ Co-ordinator in the Balkans. In 2013 she started collaborating with the company "Danse en l' air", participating in shows such as "Performing in NY- Kats Wildish showcase" and Ballet Arts show "Experimental Performance Evening" in Yuka Kawazu's choreography, "Chaap Tilac".
THEATRES: Some of the Theatres she has performed at are :"Alvin Ailley Citigroup Theater, NY", "City Center studios, NY", "The Egg, NY, "Hostos Center for the Arts & Culture, NY", " Varna's Opera", "Badminton Theatre". "Acropol", "Homerion" and others.
Today she is traveling in Greece and around the world, dancing and teaching dance in studios and schools, and giving private lessons, organizing seminars and training dancers using all the scientific research of Dance Science, to achieve best results. If you are interested in booking her for a guesting in your performance/company or for private/group classes you can send an email.